Vanderbilt defeats Ole Miss 28-14, ends losing streak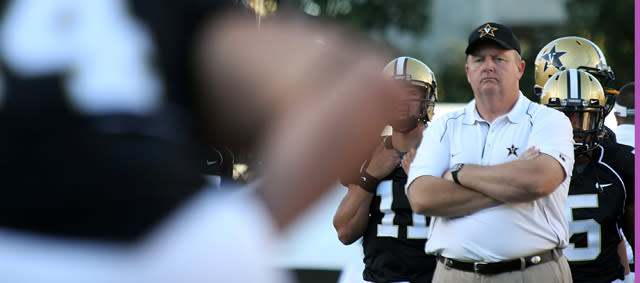 OXFORD, Miss.- Vanderbilt head coach Robbie Caldwell called this week's game at Ole Miss a "business trip" and needless to say, the Commodores got the job done with a 28-14 win over the Rebels on Saturday. The win was the first for Vanderbilt in 11 games dating back to September of last season. It also marked the first Southeastern Conference win for the Commodores since Vanderbilt defeated Kentucky on November 15th, 2008.
Vanderbilt's celebrated running backs combined to rush for 198 of the Commodores 227 yards. Sophomore Warren Norman gained 111 yards on 15 carries including a momentum-swinging 80-yard touchdown run in the third quarter. It marked the third 100-yard game in the young backs career. Fellow sophomore Zac Stacy gained 46 yards on six carries including the game's first touchdown, a 35-yard breakaway run in the second quarter. Redshirt freshman Wesley Tate added 30 yards on 10 carries and senior Kennard Reeves had two first down runs for a total of 11 yards.
Commodore junior quarterback Larry Smith threw for just 73 yards in the win, but managed the game well in his seventh career SEC start. Smith got rid of the ball against a Rebel oncoming rush on a few situations and didn't force anything in the passing game that wasn't there. The Alabama native also gained 35 yards on five carries, including a game-clinching 15-yard score in the fourth quarter with 8:04 to go.
The Vanderbilt defense forced three turnovers during the game, including a 21-yard interception return for a score by sophomore corner Eddie Foster and a fumble recovery deep in Ole Miss territory in the fourth quarter. Statistically, the Commodores gave up 385 total yards to the Jeremiah Masoli-led Rebels, but most of that yardage was gained during the end of the first half and beginning of the second half. The Commodore defenders also mounted a key fourth and short stand during the fourth quarter.
The defense was without starting free safety Jay Fullam and projected starting corner Jamie Graham. Vanderbilt was also without defensive co-captain T.J. Greenstone for the majority of the game when the junior defensive tackle suffered a sprained ankle. Junior All-SEC linebacker Chris Marve also missed time during the fourth quarter, but the Commodores received great efforts but unsung players like sophomore defensive tackle Rob Lohr, corner Eddie Foster, true freshman safety Kenny Ladler and defensive end Tim Fugger.
Ole Miss was led by Masoli, a fifth-year senior who used a graduate transfer rule to leave the University of Oregon and land in Oxford during the offseason. The 2009 Davey O'Brien finalist rushed for 104 yards and a questionable touchdown on 19 carries and threw for 190 yards. However, Masoli was picked off twice and only completed 19-of-35 pass attempts.
"It was an exciting day I was so proud of these young people what a job they did," Caldwell said after the game. "We came here on a business trip, that's what we designated it as. They worked hard and did everything they were supposed to do. It was a quick turnaround. We had a pregame meal at seven in the morning and got on the bus. The bus broke down, and we had to pile everyone on the other buses. They could have found every excuse to not fight hard, to throw their hands in the air, but they didn't. Every phase of the game played great, from defense to offense."
The game started much like Vanderbilt's game last week against LSU, with the Commodore offense going backwards due to either breakdowns in run blocking or penalties. Twice the Vanderbilt punt return team was flagged for blocks in the back, putting the Commodores in bad starting field position. The first quarter ended with the Commodores gaining just 20 total yards through four series.
Vanderbilt's offense finally came to life in the second quarter with a balance of both the run and pass. Starting on the Commodores own 4-yard line, Smith connected with junior tight end Brandon Barden for 17 yards and a first down. Smith found junior Tray Herndon on a 10-yard out for another first down two plays later and he found John Cole for a 8-yard first down following back-to-back short runs by Wesley Tate and Warren Norman. The Commodores moved into Ole Miss territory for the first time when Smith found Norman on a short pass out of the backfield and the Georgia native gained 14 yards to put the ball at the Ole Miss 35.
Zac Stacy broke two arm tackles through the teeth of the Rebel's defense two plays later and raced past the Ole Miss secondary for a 35-yard score to give the Commodores a lead.
The Vanderbilt offense moved the ball again during the next possession, gaining a pair of first downs, but the drive stalled at the 50-yard line and sophomore Richard Kent's 35-yard punt put the Rebels at their own 15. On the very next play, Eddie Foster broke on Masoli pass towards the sidelines for an interception and returned it 21 yards for a touchdown. The interception was the first "pick-6" for the Commodores since Reshard Langford returned a pick for 42 yards against Tennessee in 2008. It marked the second straight game in Oxford in which Vandy returned an interception for a touchdown.
"I started to pull, especially when I saw number 2 going vertical, I saw him starting to roll out and kind of looking at that stop," Foster said in the post-game press conference. "I didn't really think he would throw it but I broke on it anyway, which I might get in trouble for later. But, I broke on it and got there just in time and had a clear run to the end zone."
Ole Miss got on the board later in the second quarter with a 7-play, 63-yard drive, capped by Korvic Neat's score from four yards out. The Commodores had a chance to end things earlier in the drive with a 3rd and 7 from its 46-yard line. However, the defense failed to pick up Masoli on a quarterback draw, as the former Pac-10 standout gained 12 yards and a first down. On the next play, Masoli connected with Jesse Grandy on a 31-yard pass play at the Commodore three-yard line. The play appeared to be a result of busted coverage by the Vanderbilt defense.
The second half opened with the Commodores picking up 19 yards on its first three plays from scrimmage, but a illegal chop block penalty backed the Commodores up from a 2nd and 5 situation to a 2nd and 20, and Vanderbilt was forced to punt a few plays later.
Ole Miss tied the game with a 9-play, 66-yard drive on its next possession, capped by a 28-yard scramble and score by Masoli. Initial replays seemed to indicate that the diminutive signal caller had stepped out of bounds at the 2-yard line but the SEC officials upheld the original ruling after replay review.
With momentum appearing to be well on the Rebels side, Vanderbilt responded with its longest single run by a Commodore tailback in 62 years when Norman darted through the Rebels defensive line, avoided a tackle from a linebacker and raced for a electrifying 80-yard touchdown run. It was also the fourth time in Norman's young career in which he's gained 40 or more yards on a single run.
Ole Miss appeared to be on pace to match the Commodores score with its next drive, gaining 60 yards on 11 plays. However, Rebels kicker Bryson Rose pulled a 32-yard field goal right and the Rebels were held scoreless.
After the two teams swapped field position and minimal drives during the next five possessions, including a key Vanderbilt defensive stop on a 4th and 1 sneak attempt by Masoli, the Commodores suddenly gained seven more points in two plays. Commodore senior linebacker John Stokes stripped Rebels running back Korvic Neat on a first down deep inside Rebels territory and Kenny Ladler recovered the fumble to give the 'Dores the ball at the Ole Miss 15. On Vanderbilt's very first play, Smith kept a read option and dashed into the end zone for a 15-yard touchdown and to put the Commodores up 28-14.
Smith's score marked the first time a Vanderbilt offense has scored three touchdowns in a conference game since the Commodores last SEC win at Kentucky in 2008.
Ole Miss attempted to mount drives during its next two possessions but the defense held on a 4th and 7 on Mississippi's 45-yard line and ended the second drive with a Casey Hayward interception at the Commodore 18.
Junior safety Sean Richardson led the defense with 12 tackles while linebackers Chris Marve and Stokes added 10 a-piece. Rob Lohr, perhaps one of the co-stars of the defensive effort, finished the game with six tackles and a sack. He also rushed Masoli on several occasions, though was not credited with any quarterback hurries by the game's official scorer.
"We did great defensively today," said Rob Lohr. "That fourth and one stop was a big stop and we just came out and did what we were trained to do so we were happy.
"We work on passing the rusher at practice every day. Sometimes you get back there and sometimes it is a little harder when you are double teamed. I got through there one time and it was nice to finally get that first sack."
Vanderbilt moves to 1-2 on the season with the win, and 1-1 in SEC play. Ole Miss drops to 1-2, and 0-1 in the league. The Rebels loss marked the seven straight for Ole Miss in SEC openers and its second straight at Vaught-Hemingway Stadium. It was Vanderbilt's second consecutive win in Oxford, and fourth win over the Rebels in six years.
The win also marked the first for veteran assistant and first year head coach Robbie Caldwell. The 56-year old first-year coach took over as the Commodores head man in mid-July with the sudden retirement of Bobby Johnson.
"It was a very emotional time," Caldwell shared. "I think it's the first time my wife or daughter have been to an away game. They had a great time and got to witness this. But it's not about me; it's about the young people on this team. I'm just so thrilled that they got the taste of victory. It's been a long time for us, and we know that and we are working hard on it. It's a very special group that keeps fighting, and they wanted me to have the game ball. I told them it's not about me it's about us.
"Like I said we know we should have won one other and possibly had a chance to win another. We know that, and everyone has pointed it out to us before, so I always appreciate the help from the outside too. But these guys just kept working. We are a family, and these guys just keep paying attention to what's going on inside. That's the most important thing."
The Commodores will enter its bye week on Sunday and won't return to game action until October 2nd when Vanderbilt makes its first-ever trip to Hartford to take on the Big East Connecticut Huskies. The Huskies are off to a surprising 1-2 start after suffering a 30-16 loss to Temple on Saturday. Game time has yet to be set.