2017 Vanderbilt baseball commitments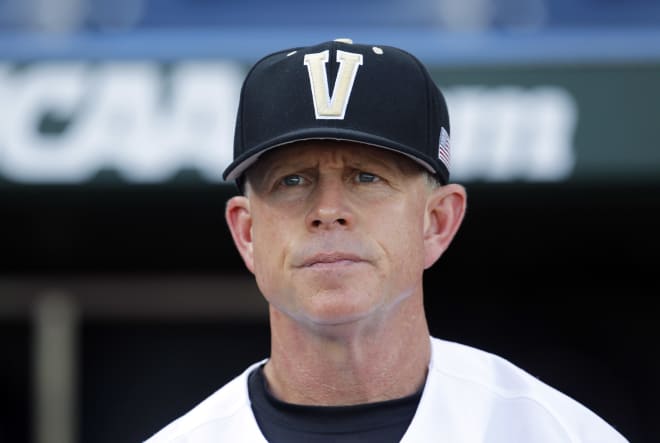 Baseball commitments for 2017
Player
PG/BA
Description and where drafted

David Bates, RHP

6-5, 215

R/R

Christ Presbyterian Academy

Nashville, Tenn.




400/NR

The CPA right-hander is the #12 rated player in TN for 2017. The former All-State and Mr. Baseball finalist has been clocked in the low 90s on his FB. He has played for the Nashville Knights summer team and was a member of a loaded 2016 Team Tennessee that included six other Vanderbilt baseball commits.

Garrett Blaylock, SS

6-3, 208

L/R

T.C. Roberson HS

Asheville, N.C.

217/NR

A shortstop out of North Carolina (No. 9) with good size. Has some room to add strength and projects as a future third baseman. Left-handed swing has good rhythm and bat speed that should keep improving. He has pitched in the past but profiles as an offensive player at the next level(s). Excellent student.

Corbin Brooksbank, RHP

6-0, 185

McCallie School

Signal Mountain, Tenn.

172/NR

Good athlete who pitched and played outfield for the state runners-up as a senior, and also played football. Was throwing 94 at the beginning of his senior year, and also utilized a curve, change-up and a cutter, the latter of which he worked on a lot in his final year. Played for former Reds first baseman Tim Costo at McCallie. His dream was to play at VU, and he models his game after Sonny Gray.

NOTE: Brooksbank is not listed on VU's fall roster.

Aaron Brown, RHP

6-4, 205

R/R

Mt. Juliet

Mt. Juliet, Tenn.

293/NR

Throws a fastball that touches 90, and adds a change-up, curve and slider. Former Mississippi State commitment.




Tyler Brown, RHP

6-2, 230

R/R

Crestview HS

Ashland, Ohio

285/214

According to Ohio Prep Baseball Report, Brown's fastball sits between 91-4 and touches 95. He offers a curve (78-81), a change-up (79-80) and a slider (82-4). Late riser who could be paid over his slot.




Drafted by the Reds in Round 26; did not sign.

Philip Clarke, C

5-11, 190

L/R

Christ Presbyterian Academy

Franklin, Tenn.

61/167

According to The Tennessean, Clarke hit .500 with six home runs during the regular-season portion of his senior campaign. He's got a strong arm and is a solid defender behind the plate, and while his hit tool draws mixed reviews and has 20-grade speed,, there's average-to-above-average power potential. Ranked the No. 158 draft prospect by MLB Pipeline.

Cooper Davis, OF

5-11, 185

L/R

St. Aloysius Gonzaga HS

Mississauga, Ohio

177/368

Davis, a Canada native, is an athletic outfielder who runs a 6.45 in the 60, according to Prep Baseball Report. His defense may be more of an asset than his bat; he's a contact hitter who doesn't presently generate a lot of power. A real draft wild-card due to not being seen as much.




Drafted by the Blue Jays in Round 25; did not sign.

Pat DeMarco, OF
5-11, 205
R/R
Winder-Barrow HS
Winder, Ga.

125/364

A potential center fielder with athleticism, DeMarco has good speed and defensive instincts, with good contact ability and gap power. Potentially a big-time bat. Ranked the No. 181 draft prospect by MLB Pipeline.




Drafted by the Yankees in Round 24; did not sign.

Jake Eder, LHP
6-4, 210
L/L
Atlantic HS
Ocean Ridge, Fla.

39/69

Talented lefty with a fairly easy, three-quarters delivery. Touches 94 with a fastball that has good sink, and some arm-side run when he wants to keep it away from right-handers. He adds an average breaking ball and a change-up that needs some work. Those secondary pitches need some polish, but he's a high-ceiling prospect. Ranked the No. 66 prospect in the draft according to MLB Pipeline.




Drafted by the Mets in Round 34; did not sign.

Hugh Fisher, LHP
6-5, 185
R/L

Briarcrest Christian HS
Eads, Tenn.

75/327

Ranked as the No. 156 prospect in the 2017 draft by MLB Pipeline, Fisher's fastball has gotten a 65 grade, and it's already hitting 94. His curve ball and change-up get plus grades. Fisher could easily take a large sum of money now, but may be better off added weight and three years of development at Vanderbilt, at which point he could easily be a future first-rounder.

Joe Gobillot, LHP
6-6, 225
L/L
St. John's HS
Houston, Texas

105/276

Rose up the Perfect Game rankings this spring. Big lefty throws in the low-to-mid-90s and has a slider, but consistency has been an issue. Throws out of a low-three-quarters arm slot.

Jayson Gonzalez, MIF

6-2, 205

R/R

Bishop Amat HS

Covina, Calif.

54/243

A big, strong kid with an uppercut to his swing, Gonzalez is a good bet to provide power right away. Can run a bit, has a good arm, and should profile at third.

Mason Hickman, RHP

6-6, 229

R/R

Pope John Paul II HS

Hendersonville, Tenn.

118/438

Big, athletic kid who sits in the high-80s with a fastball (and touches 91) but is tough to hit. Adds a slider and change, and has a ton of projection, but low fastball grade may send him to college.

Eric Kaiser, RHP

6-5, 205

R/R

Waterloo HS

Waterloo, Ia.

284/NR

Sits mid-to-upper 80s with fastball, and has touched 93 with his fastball, and also throws a curve. Developed late as a pitcher during the summer after his sophomore year, and his stock rose quickly, but hasn't done much to improve since.

Hayden Leatherwood, OF

6-0, 190

L/R

Christian Brothers HS

Collierville, Tenn.

488/NR

Athletic outfielder with gap power. Transferred from Briarcrest for his junior year after having surgery on his labrum, then, broke his wrist in the first game of his senior season.




NOTE: Leatherwood didn't report to campus for the fall.

Austin Martin, MIF

6-0, 170

R/R

Trinity Christian Academy

Orange Park, Fla.

92/134

Ranked among the top 100 high school prospects, according to D1Baseball.com. Exciting all-around player runs well, gets mixed reviews with his arm, and has some hitting ability, though he needs to add strength and power.




Drafted by the Indians in Round 37; did not sign.

Tyler Solomon, C

6-4, 215

S/R

Battlefield HS

Haymarket, Va.

333/NR

Big catcher who has already show the ability to hit the ball over 400 feet. Hit .455 as a junior and was selected to play in the Area Code Games. Could profile at first or DH. Committed to Vanderbilt in the fall of 2014.

Justin Willis, RHP

5-11, 180

R/R

Memorial HS

West New York, N.J.

500/NR

Fastball tops out around 90, and adds a pair of breaking balls. Works quickly and uses both sides of the plate.
Notes
Perfect Game's rankings are as of April 5, 2017.
Baseball America's rankings are its draft rankings as of June 2017, and high school players are lumped in with college players.
Thanks to dsb3 for his contributions to this list.