Coach Analysis: Josh Palmer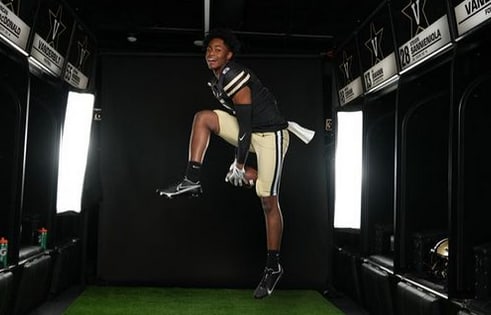 Vanderbilt added tight end Josh Palmer to the 2023 class earlier this week. We caught up with Montgomery Catholic head coach Kirk Johnson about his former 6-foot-5 and 215-pound tight end. Montgomery Catholic finished 2022 with a 13-1 record.
VandySports: What kind of player is Vanderbilt getting in Josh Palmer?
Kirk Johnson: "Vanderbilt is getting an all around guy. He isn't a one-position guy. They are getting a guy that can flex out and play receiver, but he could also come in and play H-back. He can also put his hand in the dirt and play some tight end. He's a really swell kid. He's got a bright personality. He comes from a good family, tough family. They are getting an all around guy."
VS: How has his skills developed throughout high school?
KJ: "I coached him his senior year. I can tell you that in that one year that he developed a lot, a lot. He came in from playing in a very small private school league before coming to our school. He developed tremendously in that one year. He became a very physical blocker, and I would have told you that was one of his downsides when he first came to us. He developed into a very strong blocker. He developed into a guy that we could really count on and help pushing the ball down vertically. Like I said, he became an all around what we call Y."
VS: What is your favorite memory of Josh Palmer?
KJ: "I would say that my favorite memory would probably be when he had has his breakout game. He struggled for a couple of weeks when he transitioned with just learning the plays and being around the guys. He had his breakout game and had like 160 yard receiving. Just watching him let the relief roll off his shoulders was really good to see because he is such a good kid. He's a kid that you really want to be around."
VS: What type of leader is Josh Palmer?
KJ: "He is definitely a vocal guy. It's kind of hard for me to give you my full judgement on that. I'll tell you this. Instead of his leadership, I'll tell you what type of kid he is. He made a transition to a bigger school, bigger football, and bigger everything within a year and had to adapt to bunch of guys. We had 6 D1 guys. So when he came in, he's coming from a school that he was Mr. everything and Mr. all this. He had to adjust and transition to live like a champ. He went from a world where everyone is telling you how good you are and so on. For him to come in, he really earned his keep and earned his spot. He's all about business. I really respect the way that he did that. He earned everybody's respect. He was able to come into a new team as a Senior to a team that was already loaded with a lot of talent and earn his respect."
VS: How does Palmer's skill set translate to the SEC?
KJ: "That's a question you need to ask (Vanderbilt's) head coach. The only reason I say that is all of that depends on what they want him to play. Do they really want him to focus on receiver or move inside play Y or put his hand in the dirt or do they want him to put on weight and play tight end? I think he could do either one of those things or all of those things. It is whatever they are looking for. I think they want him to play Y, which is what we call a true Y. That could be flexing him out or putting him in the backfield. They could put him in the pass route. At the end of the day, the kid is going to be a big kid. He can run. He's physical."