Franklin to get historic contract extension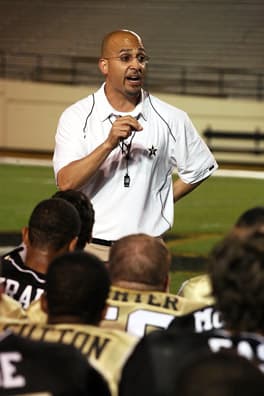 What James Franklin has already accomplished at Vanderbilt in less than one year is historic.
What Vanderbilt is about to do in response is even moreso.
Last night, several sources close to the Vanderbilt athletics department confirmed that the school has agreed to a long term contract extension and raise for first-year football coach
James Franklin
. According to several sources, the new deal increases Franklin's annual salary to approximately $3 million.
As a private institution, Vanderbilt is not obligated to release details of its employment contracts. But if Franklin's new contract is similar to those of mens head basketball coach
Kevin Stallings
and head baseball coach Tim Corbin, Franklin likely has a de facto lifetime contract.
Franklin's original contract was for five years, but both Stallings and Corbin have seven year agreements. It's not yet known what the term of Franklin's new contract is; Regardless it likely more than doubles what Franklin was paid in 2011.
Both Stallings and Corbin have seven-year agreements that roll over every time their respective program reaches a pre-determined set of goals. Those goals include wins, graduation rate, attendance and other factors.
If Franklin's contract is indeed worth $3 million a year -- and includes annual cost of living increases, bonuses and incentives -- Franklin is easily the highest paid coach in the history of Vanderbilt athletics.
Perhaps just as important, the new agreement between VU and Franklin includes facility improvements that will put the football program on a level playing field with its SEC counterparts. Rumor is that among those improvements may be an indoor practice facility, a big ticket item that Franklin has long believed is crucial for his program to recruit the best student athletes.
Franklin's contract likely includes similar pay raises for his assistants. The long term stability of Franklin, and VU's commitment to invest in that program's facilities, make it far less likely that Franklin's assistants will be lured away to jobs at other schools.
Offensive coordinator
Bob Shoop
is probably at the top of the list, as he was contact by Richmond about that school's open head coaching position. Shoop turned down an opportunity to interview for that job, but history certainly implies that other schools are certain to look to poach Franklin's highest profile staffers.
Since coming to Vanderbilt, Vice Chancellor and acting athletics director David Williams has worked diligently to rethink the contracts that Vanderbilt has with its coaches. Before Williams -- who teaches law at VU -- arrived in Nashville, even successful head coaches were paid the lowest salaries in the SEC. They also had minuscule or even nonexistent buyouts.
That is no longer the case for Stallings, Corbin or women's head basketball coach Melanie Balcomb. All three are among the highest paid in their respective sports, and all three have buyouts that virtually any school would find prohibitive.
According to sources at Vanderbilt, and gleaned from years of speaking with VU administrators, the new buyouts are a multiple of what remains on a coach's contract. In other words, one can assume that if another school now wants to hire Franklin away, they will not only have to guarantee him perhaps tens of millions of dollars, they will also have to write a check to Vanderbilt that measures will into the millions.
In 2008, then head football coach Bobby Johnson took his VU team to the Music City Bowl. But his next two Vanderbilt teams both finished with 2-10 records, and failed to win a single SEC football game.
Franklin, with virtually the same talent, took this year's team to a 6-6 record and will be invited to one of three bowl games. Depending on what happens at next week's SEC title game between Georgia and LSU, Vanderbilt will be invited to either the Music City, Liberty or Gator Bowl.