Vanderbilt makes move to hire Malzahn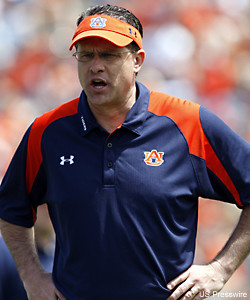 According to several sources close to the Vanderbilt athletics department, Auburn offensive coordinator Gus Malzahn has been offered the head football coaching position at the Southeastern Conference university.
Malzahn was in Nashville Wednesday night, formally interviewing for the position with the search committee. Vanderbilt decided to offer the job to Malzahn some time on Thursday.
Should Malzahn decline the job, the school will hire Maryland offensive coordinator James Franklin. Michigan State offensive coordinator Don Treadwell and Stanford associate head coach/assistant offensive head coach Greg Roman are also on the short list. All three have visited Nashville over the past week and spent time with the search committee.
Malzahn has rocketed to the top of the college football world by virtue of his success at Auburn. In his second season as AU head coach Gene Chizik's offensive coordinator, the Tigers are averaging 42.8 points and 505.2 yards per game, ranking in the top 10 nationally in both categories. Auburn won the SEC this season with a perfect 13-0 record, and will face Oregon for the national championship.
Last night, Malzahn won the Frank Broyles Award as the top offensive coordinator in college football.
Malzahn previously served as the offensive coordinator for Arkansas and Tulsa.
Though Vanderbilt, as a private school, is not required by law to release its coaches' salaries, it's thought that Malzahn has been offered as much as $3 million per year, including a lengthy and rich list of incentives. Historically, Vanderbilt's coaching contracts extend for a guaranteed seven year term, and if so, Malzahn's compensation would be the largest in the school's history.
Malzahn has a close connection on the current VU football staff. While working for Todd Graham at Tulsa, Malzahn served as Co-offensive coordinator with Herb Hand, who coached VU's offensive line this past season. Hand continues to be employed at VU during the interim period since the resignation of Robbie Caldwell, and has worked on the road to retain current commitments.
In 2007, Tulsa was sixth in the nation in scoring (41.1 per game), first in yards (543.9 per game), and third in yards per play (6.8). The following season, after losing their quarterback Paul Smith, the offense actually improved: second in scoring (47.2 points per game), first in yards (569.9 per game), and yards per play (7.3).
Malzahn's offense is well chronicled in a book he wrote that details his philosophy: The Hurry-Up, No-Huddle: An Offensive Philosophy, which is available on Amazon.com.
It's been no secret that Vanderbilt's search focused almost exclusively on coaches who had proven themselves on the offensive side of the ball -- but none could compare to the amazing success story that Malzahn has built in his short college career. Malzahn's incredible offensive numbers offer the starkest possible contrast to Vanderbilt, which ranked at the bottom of the SEC in virtually every offensive category this past season.
Should Malzahn take over the Vanderbilt offense, he'd have nowhere to go but up. In 2010, out of 120 Division 1 programs, the Commodore offense finished 110th in total offense, with 203 points. The next-lowest SEC team was Mississippi State, which came in at No. 67 with 319 points.
VU scored just 13 touchdowns on the season, and averaged just 16.9 points per game -- the lowest for any team in a BCS conference. VU also averaged a league-low 4.6 yards per play, and finished last in Division 1 football in third down conversions.
Vanderbilt's coaching search began nearly three weeks ago, when Robbie Caldwell resigned the morning of VU's season-ending home game against Wake Forest. Parker Executive Search in Atlanta was retained to manage the search. After an initial round of as many as 20 candidates were interviewed -- most or all outside of Nashville -- VU's list was pared down to somewhere around eight candidates.
Each of those finalists were brought to Vanderbilt's campus for official face-to-face interviews with Vanderbilt's search committee, which was headed up by Vanderbilt Vice Chancellor David Williams and Chancellor Nick Zeppos. As this past week progressed, some candidates were eliminated from consideration, while others advanced to the final, short list of candidates listed above.
In addition to Malzahn, Franklin, Treadwell and Roman, Vanderbilt interviewed Tulsa Coach Todd Graham, former Clemson and Tulane head coach Tommy Bowden, former Miami (FL) head coach Randy Shannon, Wisconsin defensive coordinator Dave Doeren, Nebraska assistant Shawn Watson, and Air Force Coach Troy Calhoun. Navy head coach Ken Niumatalolo was also considered, but because Navy plays Army this weekend, he was not able to interview in Nashville this past week.
Last year, Malzahn considered leaving Auburn for the the then-open Louisiana Tech head coaching position.
Whether or not Malzahn accepts Vanderbilt's offer, the Commodore football program plans to formally name its new head coach this Monday.