Vanderbilt recruiting: perception is not reality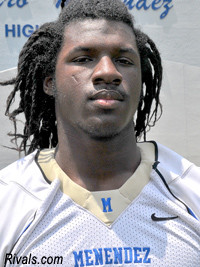 As Vanderbilt nears the announcement of its next head coach, many universally passed down claims of the difficulty of the job have been made by onlookers across the country.
- Vanderbilt competes in the toughest conference in the nation, the Southeastern Conference.
- It is the only private institution in the SEC and has had a very below average winning percentage in the league since the 1960's.
- Vanderbilt's stadium is smaller than any other in the league and other facilities are considered below the norm within the "arms race" conference.
However, one claim of difficulty that trumps them all, is that of the academic constraints that the university puts on athletic admissions. Many will claim that it is too tough for Vanderbilt to compete because the school wants its players to rival that of the regular student body at Vanderbilt.
While it's true that Vanderbilt does typically require more of it's student-athletes than some other schools will, and has standards that are above the normal NCAA clearinghouse entrance requirement, the standard may not be as restrictive to Vanderbilt as the general public would believe.
Over the last several years, Vanderbilt's recruiting office has spread a wide net throughout the country, and several top prospects have been identified to be suitable enough students to accepted by the universities admission standard. Several others have been recruited for extensive periods of time as the school reviews academic records in an effort to admit the prospect.
VandySports.com has studied Vanderbilt's recruiting practice since the website began in 2003, and has a number of facts that may put holes into the theory that Vanderbilt's academic standard is too high for the Commodores to compete for winning seasons within the Southeastern Conference and reach post-season play on a more regular basis.
Fact: 94 members of the current Rivals250 prospect list are believed to have received either verbal or written offers to play football at Vanderbilt. Vanderbilt only offers a prospect even verbally if they believe the prospect has a reasonable chance to clear admissions with the university. Vanderbilt's admissions policy with student athletes are said to be on a case-by-case basis and the key area of emphasis for the university is whether or not a student can compete in the classroom enough to graduate from the school.
Fact: An estimated 50 more athletes from the Rivals250 are believed to have academic profiles that would fit Vanderbilt's general criteria for it's football players.
Fact: Stanford University currently has the 10th best recruiting class for the 2011 signing period according to Rivals.com. Last year, Stanford ranked 26th nationally and in 2009, Stanford ranked 20th. Vanderbilt could have accepted virtually every player that signed with Stanford during those three classes. That includes 14 prospects ranked in the Rivals250 as well as 21 four-star and 40 three-star recruits overall.
Fact: The other eleven SEC schools currently have a combined total of 225 commitments for the 2011 period. An estimated 87 of those prospects either had a verbal or written offer from Vanderbilt during one time of their recruitment. Based on information available to VandySports.com, it is believed that as many as 34 more prospects could've received offers from Vanderbilt with further recruiting and attention. That means over half of that current group would likely be able to qualify under Vanderbilt admission standards. Many prospects that annually sign with Georgia, Florida, Auburn and Alabama in the SEC, can typically qualify under Vanderbilt admission standards. Grades are not a big issue in comparison.
Fact:
Vanderbilt can recruit junior college athletes and post graduate athletes provided that they were a full-qualifier upon their high school graduation. The 2010 signing of quarterback
Jordan Rodgers
surprised some skeptics due to the popular belief that Vanderbilt could not sign junior college athletes. Vanderbilt could sign Rodgers because he went to Butte Junior College in order to become a better football player, not better student. That may be somewhat rare for junior college football prospects, but it is area that Vanderbilt can indeed recruit to. Same goes for athletes at such popular prep schools like Fork Union Military Academy, Hargrave Military Academy and the Hun School. As long as they meet the criteria of being cleared by the clearinghouse upon high school graduation, the can be accepted by Vanderbilt once they meet the qualifications Vanderbilt has deemed necessary.
Despite all of these facts, there are still some hurdles academically that Vanderbilt has to face that perhaps some other schools in the conference do not.
Like any college program, the coaching and support staff must make sure that the players are able to progress towards a degree while at the school. Vanderbilt has had little trouble progressing student athletes to graduation, finishing with some of the highest graduation rates amongst FBS subdivision programs year in and year out. However, Vanderbilt, like all schools, does have a transfer rate among its entire student body that is often a result of the academic demands at the school. So losing players to academics does happen sometimes, which effects the depth of the roster.
Another obstacle that Vanderbilt does have to compete with is at some important positions that separate the haves from the have nots in college football, namely the defensive tackle position. Many believe the position is the most important in Southeastern Conference football and the one position that sets the conference apart from others. Dominating players like Auburn's Nick Farley and LSU's Drake Nevis are among the best in college football and are future first day NFL draft picks. The speed and size of players like Farley and Nevis are what makes the conference difficult and produces championships. Both schools, as well as others such Alabama, Florida and Tennessee, have had a history of putting defensive tackles into the NFL. Vanderbilt has not.
Even with the success of some of those elite programs, it is still considered rare to find a immediate impact level defensive tackle prospect overall, due to both the talent requirement and academic requirement. Many high-regarded defensive tackles have had difficulties in clearing NCAA eligibility requirements in the past, so a rare position gets even rarer for a school like Vanderbilt.
Vanderbilt may not be able to enroll every elite level or high-impact level recruit each year, but the school can enroll a large number of recruits just the same. The academic side may be a little bit tougher than a number of other schools would require, but there appears to still be a bigger pool for Vanderbilt to dip into that the general public seems to realize.
Where academics seems to effect the Commodore football program the most is when it can't reel in a class like a Stanford or closer to home, a Georgia has, it has to go to a next level of prospects who may tend to have their own academic question marks but project to a lower impact level than the elite level prospects that chose to say 'yes' to a Stanford, Northwestern, Georgia, Florida or Notre Dame because of other factors that don't pertain to academics, such as better winning percentage, more historical traditions or better facilities.
Yes, it is not easy at Vanderbilt, period. For a student-athlete at the school, it can be more difficult than it would be elsewhere, especially if an athlete was a less than average student. However, with the national average rising every year, and a number of average to above average students emerging as high-level football prospects, the actual requirement for a football player to get into the school is not so strict that Vanderbilt can't accept a reasonable number of prospects every year to compete in the SEC and become a winning program.