Vandy holds on to knock off Mississippi State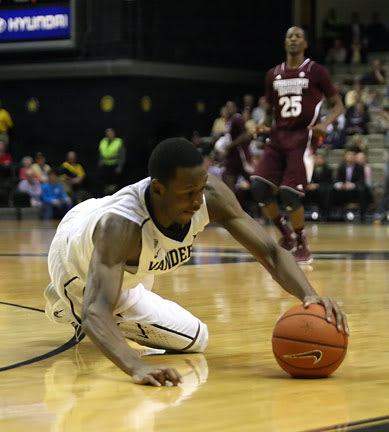 Its 13-point lead didn't last very long, but Vanderbilt was able to hold off Mississippi State for a 55-49 victory Saturday afternoon.
The Commodores held Mississippi State scoreless in the final three minutes of the first half and into the second half until Jacoby Davis hit a three-pointer with 14:50 left in regulation. "Hail State" staged a comeback, but that 12-0 run proved too much to overcome.
Rod Odom led the way for Vanderbilt with 18 points, including four big 3-pointers, and Damian Jones was a perfect 6-6 from the field for 13 points. Kyle Fuller added 14 points, 6 rebounds, and 6 assists, but his 6 turnovers proved costly.
Mississippi State's up-tempo offense gave Vanderbilt some problems with Damian Jones racked up early fouls, limiting him to 9 first-half minutes. Ultimately, however, it hurt the Bulldogs more, as their 18 turnovers did them in.
Fred Thomas nearly kept the Bulldogs in the game with eight unanswered points to open the game and two key three-pointers in the final five minutes, but no other Mississippi State player reached double-digit scoring after him.
Vanderbilt improves to 12-8 (4-4 SEC) with home games coming up against Tennessee and Arkansas next.