Vandy nips Gators in Gainesville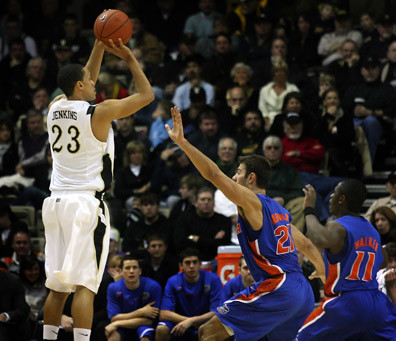 Vanderbilt's John Jenkins tied a career high with six 3-pointers, and the Commodores held Florida scoreless in the game's last 2:47 in posting a 64-60 win over the Gators at the O'Connell Center in Gainesville, Fla. on Tuesday evening.
Vandy blew a nine-point second-half lead and trailed by five at the 8:26 mark after Ervin Walker hit a pair of foul shots. But the Commodores steadily came back, and a Jenkins 3 over Walker from the left side put VU back up 60-59.
Florida's Vernon Macklin hit a foul shot to tie the game on UF's next trip, but Vandy's A.J. Ogilvy tipped in his own miss with 2:24 left to put the Commodores up by a pair.
After both teams went stale offensively for the next couple of minutes, Vanderbilt's Jermaine Beal hit a pair of foul shots with 6.3 seconds left to ice the Commodores their first win at Florida since 2001.
Jenkins (18 points), Ogilvy (16) and Beal (13) led Vandy in scoring. Florida's Macklin had game-highs in points (21) and rebounds (nine).
"I'm proud of them, obviously," Vandy coach Kevin Stallings said. "It took a lot of toughness-a great deal of toughness-to win this game, because we had really good control of it early.
"Then, Florida came back and got control of it, and I thought did a great job in the middle 15, 20, or 25 minutes of the game. Then, our guys bowed up a little bit at the end."
Jenkins's six 3-pointers came on nine attempts, matching his most conversions since a 6-for-6 performance on Jan. 2 against Southern Miss. It marked the third-straight double-figure scoring game for the freshman, who started for the second-straight game in place of Brad Tinsley.
"[The basket] was like an ocean out there. I just kept throwing them in," Jenkins remarked.
Vanderbilt (23-6, 12-3) jumped out to a 9-0 lead by scoring on its first four possessions, and kept the lead between eight and 12 for most of the way. That margin was 11 after Beal hit a 3-pointer with 2:39 left.
But the Gators ended the period on an 8-0 run, the big blow coming when Ray Shipman hit his first 3-pointer in Southeastern Conference play to bea the buzzer to cut the score to 38-35.
"You've got to give them credit. They made shots, they made plays, they got stops. They played better than we did, and we had played better than they had for 17 or 18 minutes," Stallings said.
VU hit 53.8 percent from the field in the first half, and 75 percent (6-of-8) behind the 3-point arc. Beal (11), Ogilvy (10) and Jenkins (nine) led Vandy in scoring at the half, and UF's Macklin (12) led all scorers.
Vandy's Jeff Taylor picked up a pair of early fouls, and played just seven first-half minutes.
VU re-gained the momentum it had lost when Taylor's layup with 15:58 left gave the Commodores a 46-37 lead. However, the Gators went on a 10-0 run over the next few minutes until Taylor's dunk broke the drought and the 'Dores re-took the lead with 11:35 left.
But the Gators scored the next five points, and held that five-point margin after Ervin Walker's charity tosses. With both teams struggling to score, the Gators held a four-point advantage until Jenkins nailed a 3 with 5:26 left.
UF senior Dan Werner answered with a pair of free throws, but Jenkins drilled another long bomb with 4:29 remaining to tie the game.
Macklin hit a pair of foul shots to put UF up again, but a Jenkins's final 3 at 3:08 put Vandy up one, and the Commodores never trailed again.
With points being difficult to come by, Vandy's defense down the stretch was key to a victory. The Gators gathered 20 offensive rebounds on the evening, but VU's Steve Tchiengang grabbed two huge boards down the stretch in the final minute, the second one coming off Kenny Boynton's missed 3 with 10 seconds left.
"Obviously John's shots were huge, and AJ's play in side to get us some buckets was huge as well. But I thought our ability to come back and get control of the game happened because of Steve Tchiengang's toughness, and his grit, and his determination when he came in the game and started rebounding for us," Stallings said.
Vandy's eight free throw attempts were a season-low in conference play. The Commodores had averaged 34.5 attempts in their last six games, but game officials Doug Sirmons, Ed Corbett and Mike Roberts whistled the Gators, who played zone for what Stallings termed "the entire evening," for just 10 fouls.
"I'll go back and watch the tape. Did we get fouled and they didn't call it, or did Florida do a great job of playing defense without fouling? It was probably more of the second," Stallings said.
On this evening, Vandy won the game behind the 3-point line. The 'Dores shot just 42.9 percent on the evening, but hit 10-of-20 behind the arc. Florida hit just 36.5 percent and 15.4 percent, respectively. The Gators went 2-of-13 from 3 after hitting 13-of-27 in Vandy's earlier win over them in Nashville.
Guards Boynton and Ervin Walker, who had combined for 50 in the first meeting, had just seven and five each this time. The pair went a combined 3-of-24 from the field. Beal had responsibility on Walker for much of the evening and Jenkins for Boynton.
"On Walker, we did a great job of getting to him and forcing him inside the 3-point line, which is what you want," Stallings said.
It was Stallings' first win in Gainesville since his first year at VU. In the previous eight games, Vandy had lost by an average of 80-64.
It was VU's third win in six days, with two coming on the road.
The Commodores clinched a bye in the SEC Tournament, and also stayed alive in the hunt for the SEC's overall title. VU has its regular-season finale in Nashville against South Carolina on Saturday.
SEC leader Kentucky (12-2 SEC) travels to Georgia on Wednesday before returning home to take on the Gators in Lexington.
If the teams tied, Vanderbilt and Kentucky would be crowned as co-champions of the SEC - but UK would have the top overall seed in the SEC East by virtue of sweeping the Commodores in their earlier matchups.